Message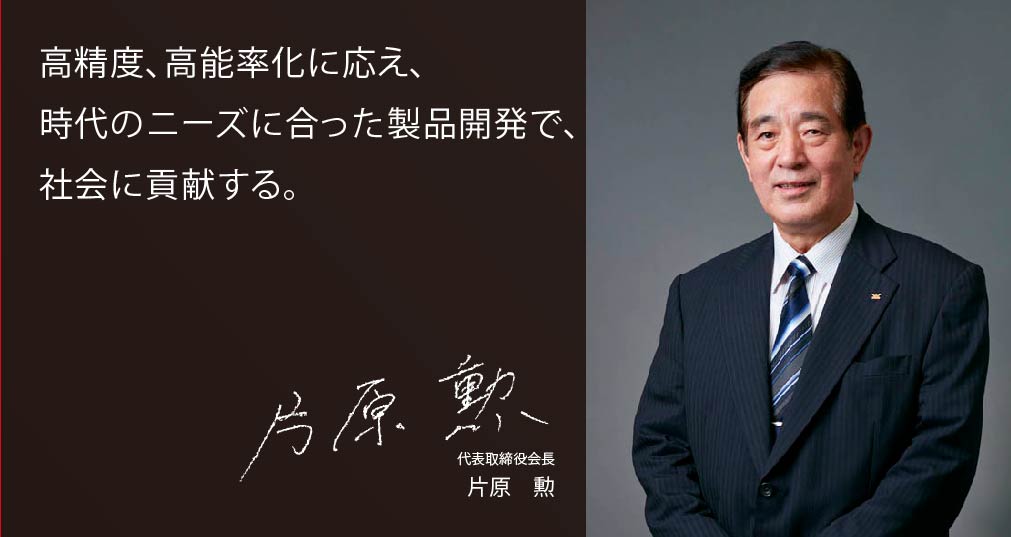 Since the release of Kabuto center in 1964, our product has had patronage from a lot of users include machine tool makers, automobile makers, parts makers, farm equipment makers and office equipment makers, we have also received opinions and advice from producers and established the reliability of our product step by step.
Under the circumstances of the recent diversification of the Japanese economy and tough situation, we suppose that users are also forced to reduce both internal and external costs. In response to these requests, point replacement type rotating center makes it possible not only to reduce process cost by replacing each kind of head (center head) for process and work form, but also simplifies the process by using specialty heads, and it has received a reputation ranging from big manufacturers to individual users.
We will make an effort to respond to higher precision operation and higher efficiency on-site and develop product to completely meet the needs of the age. If you have any question about the process content after referring to our homepage, please contact us.
Thank you for being our customer.
Business and corporate history
1946, April
Founded as Katahara machine factory in Shonaimachi, Toyonaka,
Osaka prefecture dealing with diesel related and car parts.
1957, January
In addition to conventional production, production and sale of general grinder machines including cylindrical grinder was launched.
1960, January
Company names was changed from Katahara machine factory to Nihon Seiken Industry Co., Ltd. and started the production of mandrel for precision honing.
1962, August
Moved to 281, goshokakiuchi, higashitada, Kawanishi, Hyogo and built new factory. From this time, operations were restructured to open a path for long-service employees and support to be independent, and divided the company into groups with the concept of "Freedom and Cooperation".
1963, July
Supplementary tool for precision machine was mainly produced instead of machine tools, and patent for head replacement type rolling center originally developed with mandrel for honing was applied for in Japan, Germany and America, and started production and sales.
1967, September
With the spread of the product, company name was changed to be easily recognized from Nihon Seiki Co., Ltd. to Kabuto. MGF. Co., Ltd. named after trademark.
1980, January
With cooperation with Endo Ltd., spindle unit as "OEM" production was started.
1982, March
With cooperation with Takahashi ironworks Co., Ltd., precision type L vise, precision 2D vise was started production.
1983, July
Precision sign-plate started production.
1984, September
Started to sell a series of precision vises, 2D vise and sign-plate.
1987, March
"Waterproof, high speed rolling center" product name: fine live center was developed and stared production and sales.
1993, August
Large-size automatic washing machine was introduced to improve quality.
1994, June
Seal center was developed and started production and sales.
2001, July
New product, several types of rolling center with support nut was developed, produced and sold.
2007, June
KCW was developed.
2008, April
Received a patent for KCW, and started to production and sales.
2009, December
Catalog was renovated and standard machine was added at the same time.
2010, January
Lathe center with specialty screw (KLN) was started to sell as standard product.
2014, June
Eco-friendly large-size fully automatic washing machine was introduced to improve quality.
2015, July
We got the approval of "busines innovation plan" from the Governor of Hyogo Prefecture.
2015, December
We were chosen by "SME support net hyogo" as a company with high expectations of growth.
2019, September
Isao Katahara was inaugurated as Chairman and Representative Director Isamu Katahara was inaugurated as President and CEO.
Operations
Tool production for precision machine
<point replacement type>
・rolling center


(product name: Kabuto center)

・high speed rolling center


(product name: seal center)each type




(product name: fine live center)each type

・fixed center


(product name: Kabuto lathe center)

・grinder clipper


(product name: Kabuto clipper)

・mandrel for honing
Company overview
Company name
Kabuto MFG. Co., Ltd.
Address
1-5-13, Hirano, Kawanishi, Hyogo
TEL: 072-793-2351
FAX: 072-793-2354
Capital
10,000,000 yen
Business start
1946 April
Foundation
1957 January
President
Chairman Isao Katahara
President and CEO Isamu Katahara
Factory
land area 4,000m2  building area 1,820m2
Other Factory
OSAKA, HIGASHIOSAKA, KYOTO
Bank
The Sensyu Ikeda Bank, Ltd. Tada branch, Sumitomo Mitsui Banking Corporation, Kawanishi branch
Main agency
SHIMIZU SANGYO CO., Ltd.
SUGIMOTO & CO., LTD
Izushi, Co., Ltd.
NSK Ltd.
Toyotsu Machinery Corporation.
THAISENG TRADING CO,.LTD.
ATRYZ INAKEN. CO., LTD. (random order)
Access map
From Meishin Expressway
Enter Hanshin Expressway Ikeda Line from Toyonaka I.C. Before the exit at Ikeda, enter turnoff for Nose, Kameoka and Kawanishik-Obana.
After Big Harp (suspension bridge type), turn left at Kibe exit, and go straight ahead on Route 173 for Nose.
By train


From Hankyu Umeda to Takarazuka line "kawanishinoseguchi", and take Nose railway, and get off at "Tada" station. Five minutes walk from the station.